Central Ohio Track Coaching
We help student athletes reach new heights on the track
Track coaching is our specialty.
Coaching runners and track athletes are where we began when we started back in 2011. It's one of the things we do best. At Run For Performance, we work with runners of all ages and abilities, from beginners to highly competitive runners.
We have worked with runners from over 15+ different school districts, including Olentangy, Dublin, Worthington, Westerville, Delaware, Big Walnut, Johnstown-Monroe, Northridge, Centerburg, Hilliard, Columbus, Columbus Academy, Grandview Heights, Gahanna and Upper Arlington plus numerous middle schools across these districts :
We start where the athlete is at. If an athlete comes in out of shape, we focus on sports conditioning, strength, and endurance first, then speed and technique.
When and where are our coaching sessions held?
Sessions are held weekly on either a Saturday or Sunday morning/afternoon in the Lewis Center area. (Location TBD as we get closer).

As part of the sign-up process, you will be given your pick of a dedicated timeslot on a first-come, first-serve basis. That spot will be yours throughout the whole 16 weeks. If you have to go out of town or miss a session due to illness, we do our best to accommodate a makeup session, especially when advanced notice is given.
All sessions are held outdoors at a local track or nearby location. We have been doing outdoor training for years and have no weather issues most weekends. Track workouts are best conducted on the track, not in a big box gym.

In the event of severe weather, we reschedule or refund missed sessions at the end of the coaching engagement. You do not pay for sessions canceled due to weather.
How we coach
Our training is comprehensive yet fully customized and optimized for each athlete. All events we coach include a mix of anaerobic and aerobic endurance, mobility, strength training, race strategy, and more.
As part of our coaching philosophy, we encourage each athlete to be a student first, help instill good sportsmanship and character, and help build their confidence with a strong, healthy, athletic, and competitive mindset.
Each training session will include time to do proper warm-ups using drills and dynamic warm-up exercises. Each session will conclude with a proper cooldown to jumpstart recovery and discuss the upcoming week's workouts.
During the week, athletes are given workouts to do on their own. This usually involves easy-intensity running and bodyweight/light dumbbell strength training, single-leg balance strength exercises, and/or mobility work. This is assigned based on the individualized training we prescribe that is unique to each athlete. Then when we meet, we work on more advanced workouts, speed work, technique, and progress over the past week.

In addition to our strength and track workouts, we incorporate the use of slow-motion video analysis to optimize form and technique.

Again, every drill, sprint, exercise, and workout is tied into a bigger training program tailored to each student-athlete's needs.
Events we coach
Sprints
We coach the following Sprint distances:
Boys / Girls – 100M Dash
Boys / Girls – 200M Dash
Boys / Girls – 400M Dash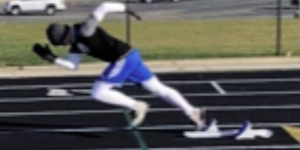 When we work with Sprinters, we focus our training around four primary phases of Sprint mechanics:

1. Starts (Including standing and block starts)
2. Acceleration
3. Drive phase (Top speed)
4. Deceleration*

*The name Deceleration is misleading – Here, we are not trying to actively slow down, but rather this is where we have to work harder to stave off fatigue factors that slow us down – for example, working on our anaerobic endurance)
Relays
We coach the following Relay distances:

Boys / Girls 4x100M
Boys / Girls 4x200M
Boys / Girls 4x400M
Mid-Distance / Distance
Boys / Girls 800M Run
Boys / Girls 1600M Run
Boys / Girls 3200M Run
Events we don't coach
We do not coach the following events:

Hurdles (although we CAN coach starts, acceleration, and speed/endurance – just not hurdle technique)
Jumps
Throws